Point to Point Autumn 2020 Fixture List
The Stewards of the Irish National Hunt Steeplechase Committee (I.N.H.S.C) have today released the fixture list for the upcoming Autumn 2020 Point to Point season.  A total of 37 fixtures have been scheduled between Saturday 19th September and Sunday 13th December 2020. 
As a result of the early cancellation of the Spring 2020 Point to Point Season and having since consulted with all Point to Point Handlers, 8 additional fixtures have been scheduled to take place this Autumn compared to the Autumn 2019 schedule. These additional fixtures are being programmed to accommodate the large amount of horses that failed to get an opportunity to run in the Spring programme.
All scheduled Point to Point fixtures will adhere to Government guidelines applicable at the time. Consequently, Covid-19 Protocols for holding Point to Point meetings will be drafted in consultation with IHRB Senior Medical Officer, Dr. Jennifer Pugh.  The I.N.H.S.C. will now begin liaising with Hunts in this regard over the coming months and circulate the protocols to all industry stakeholders once finalised. 
Following consultation with Point to Point Handlers regarding the numbers of horses expected to run in the Autumn 2020 Season, the Provisional Summary of races will now be prepared and released in due course.
Dr. Jennifer Pugh, IHRB Senior Medical Officer, commented: 
"While there remains a degree of uncertainty surrounding the ongoing Coronavirus pandemic worldwide, I am confident that we will be able to hold Point to Point fixtures as scheduled under our Government's guidelines.  Our sport lends itself to the principles of social distancing, being a non-contact sport, staged outdoors and on large sites.  I look forward to working with my colleagues in the IHRB on various protocols to assist Hunt Committees in ensuring the safe return of our sport."  
Commenting on the Autumn 2020 fixture list, Martin O'Donnell, Senior Steward of the I.N.H.S.C. said: 
"The Stewards of the I.N.H.S.C. appreciate that there will be extra demand for opportunities for Point to Point horses this Autumn compared to previous years and this is reflected in the fixture list being published today.  In an effort to balance the fixture list with the current levels of horses in training for Point to Points, we have widely consulted all Point to Point Handlers in recent weeks.  All Point to Points will be run in line with Government guidelines applicable at the time and it is imperative that everyone in the Point to Point community adheres to the Covid-19 protocols which will be circulated in advance of the season commencing.  I would like to thank all Hunt Committees who have applied to hold a fixture in the Autumn Season and for being so accommodating in ensuring we have a balanced fixture list throughout the country.  I want to reassure Hunt Committees that the Stewards of the I.N.H.S.C, the Registrar, Paul Murtagh, and all IHRB staff will assist in every way possible to ensure Point to Points will be held successfully and safely this Autumn and beyond."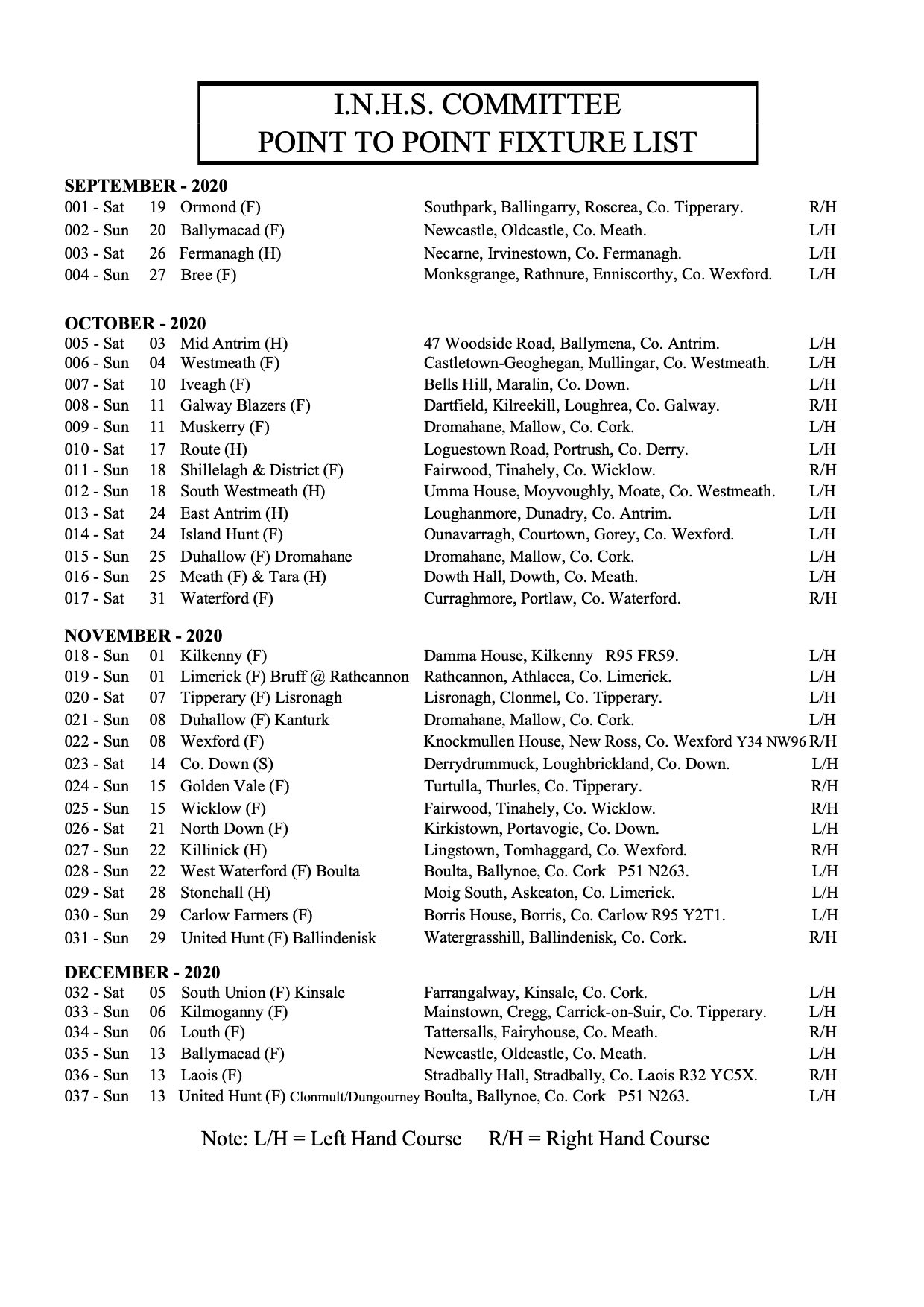 For further information, please contact: 
Paul Murtagh, Registrar, I.N.H.S. Committee.  
Phone: 045 445618.                                                                                         
Date: 17th July 2020.