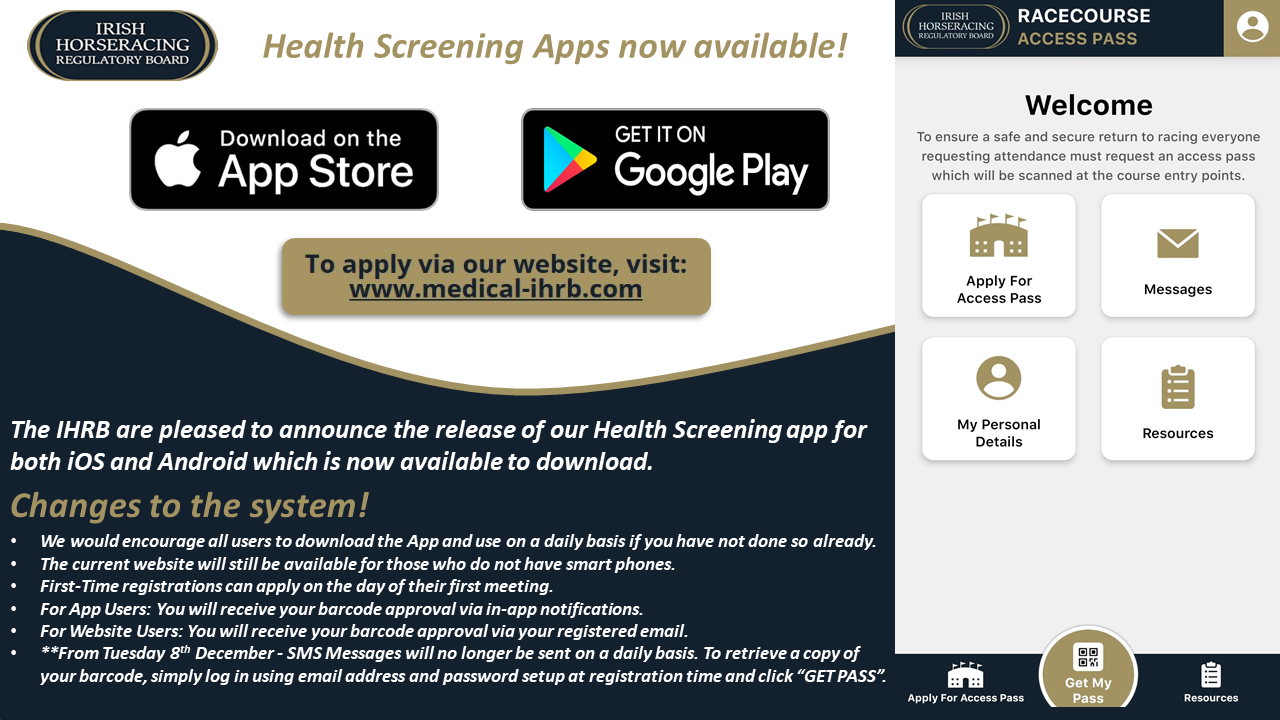 Remains mandatory for all attendees at an Irish Race meeting
There continues to be a zero-tolerance policy in place

To apply via our website, visit:
www.medical-ihrb.com
Click below to download the App for Android


WHEN:
On the day of racing for first time registrations and daily passes

OPENING TIMES:
12:01am – 11pm

HOW:
Download the FREE APP from Apple Store or Google Play to your smart phone
App - 'IHRB Racecourse Access Pass'
First time applicants hit REGISTER and complete
Returning applicants hit LOGIN and enter Username (email address) and Password (created by you at time of registration)
BARCODE:
Applications are APPROVED by the Senior Medical Officer and available in time for racing the next day
If your application says 'Pending' then you have completed the process correctly and you will receive your barcode in time for racing, there is no need to call the helpline
First time Applicants will receive a notification stating your application has been received, confirming you have completed the process correctly, your barcode will follow once approved
Your Barcode can be retrieved through the App under 'Get My Pass' and a copy will be sent to your email.
You will no longer receive a text message
NOTIFICATIONS:
Please turn your notifications ON for the IHRB App so you will be notified of any important updates
WEBSITE:
The Health Screening website continues to be operational for non-smart phone users www.medical-ihrb.com
You will continue to receive your barcode via email if applying through the website

HELPLINE:
For assistance with registration, please call our support number: 045-445656 between
10am and 1pm Mon - Fri only
excluding bank holidays
HEALTH SCREENING NOTICE



Please note there will be a HRI Support Line for Owner Health Screening queries only (number below). All other health screening queries should be directed to the IHRB Health Screening Line 045-445656.
Health Screening Questions
HRI Ownership Support Line: 045 455 601
Monday to Friday (excluding bank holidays) Opening Hours: 10am – 12pm

Weekend and Bank Holiday Racing Opening Hours: No helpline but voicemails are checked intermittently throughout the morning
Please note, the Ownership Support Line is for owner queries only
INSTRUCTIONS and see VIDEO below for details


Use your own email address:
CANNOT register same email twice


Use your own mobile number:
CANNOT register same number twice, drop the "0" (353

0

87 ******* or 44

0

78 *******)


Upload ID Photograph:
From smart phone or a photo saved on your desktop


Password:
Must be at least 8 characters with one Capital, one lowercase and one Digit


Eircode / Postcode:
If you don't know your Eircode / Postcode, enter 0000


Accuracy:
Make sure details are CORRECT, if wrong phone number entered you will not receive your barcode by text


Check Boxes:
These two boxes must be clicked at end of the Questionnaire each time


Barcodes:
Will be received by email AND/OR login again and retrieve


Baseline Questionnaire:
Please ensure to answer all questions accurately when you register for the first time


Daily Questions:
Please ensure to answer all questions accurately when you login one day before all meetings you are attending



Health Screening Check-In Times

The Health Screening Check-In Area will open 3 hours before the first race and close 30 minutes before the last race.
The only exception will be for the first race meeting behind closed doors at a racecourse whereby the Health Screening Check-In Area will open 4 hours before the first and close 30 minutes before the last.